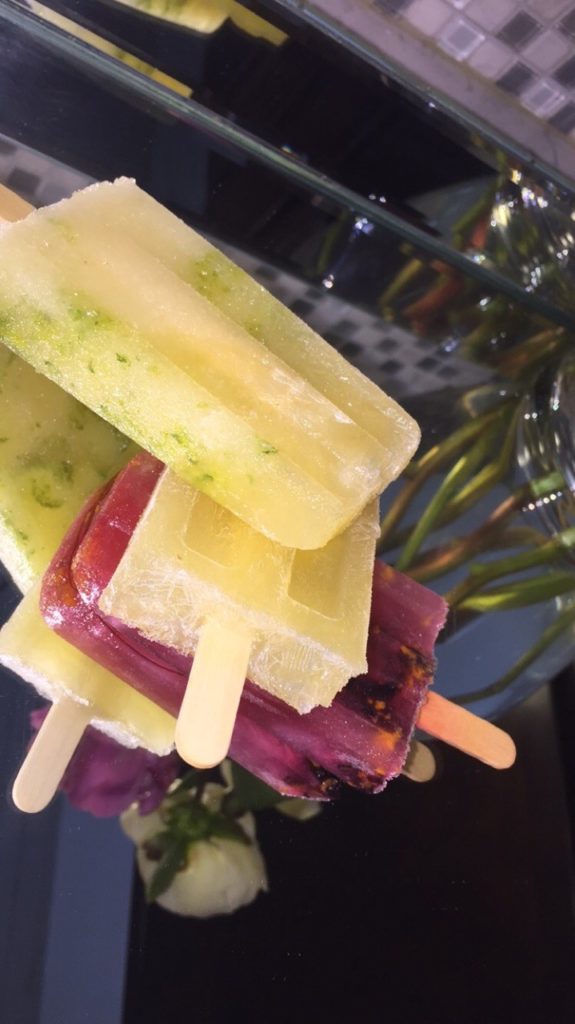 This recipe is adults only foodporn so put your hands over the kids eyes. The Summertime Fine Popsicle was inspired by my recent trip to Jamaica & I built the others from there. Open your mouth to a cool new way to enjoy a cocktail.
Summertime Fine:
1/3 cup pineapple juice
1/3 cup orange juice
1/4 cup chopped fresh pineapple
3 ounce of Summer Colada Ciroc
1. Divide & place chopped pineapple in your Popsicle molds.
2. Mix all ingredients & pour into your Popsicle molds.
(Recipe makes 4 Popsicles)
Répondez S'il Vous Plaît (R.S.V.P):
1 cup champagne or prosecco
1/2 cup water
1/2 cup sugar
3 tablespoons orange juice
1 tablespoon orange zest
1 tablespoon lime zest
9 whole hibiscus
1. Start by making a simple syrup. In a small pot add sugar, water, half of your lime zest  and half of your orange zest. Cook on low until sugar is dissolved and set aside.
2. Divide and place hibiscus, remaining lime zest, and orange zest at the bottom of your Popsicle molds.
3. Mix champagne, 6 tablespoons of simple syrup, and 3 tablespoons of orange juice and pour into your Popsicle molds .
(Makes 3 Popsicles)
Henn Pop:
Zest from one lime.
6 slices of lime (yes, you can use the same one you zested)
Pinch of Himalayan pink salt (optional)
1.Please make E.A.T's Hennessy Margarita's and set aside.
2.  Divide the lime zest and place at the bottom of your Popsicle molds
3.  Add a lime slice to your molds as well.
4. Pour in your Hennessy Margarita mix.
5. Garnish with the pink salt.
(Makes 6 Popsicles)
    *It's best to freeze your Popsicles  overnight (8-10 hours) on the highest setting.
     **These can also be served as regular cocktails but of course Popsicles are more fun!!! 
-Enjoy All Things