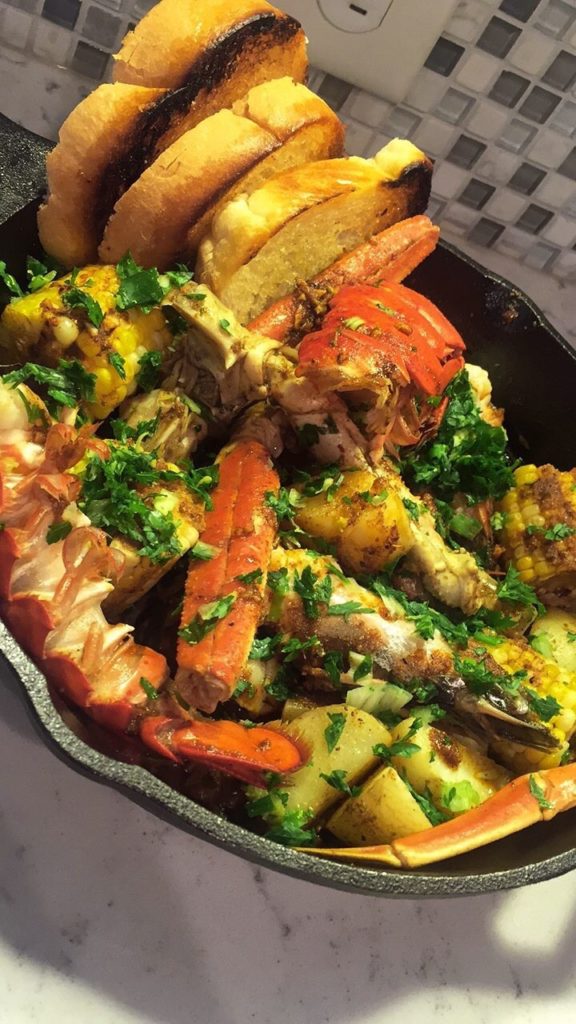 Sometimes you just want to selfishly indulge ALONE with no judgement.  No one saying, "Are you really going to eat all of that?" with you having to respond "umm, YEAH!".  You can enjoy your garlic breath & finger licking goodness in peace.  This recipe doesn't require you to use seafood, so feel free to substitute with chicken or tofu.  Pour yourself a glass of whatever, turn on some music, & E.A.T!
Prep Time: 30 minutes 
Cook Time: 15 – 18 minutes
What you'll need:
3 colossal shrimp (I used head on shrimp)
1 cluster of snow crablegs
1 lobster tail
3 small Yukon gold potatoes
1 ear of corn (corn on the cob)
1/2 cup stock (use vegetable, seafood, or chicken)
Zest of 1 small lemon
Juice of half small lemon
1 green scallion (green onion)
1/4 cup fresh chopped parsley
6 garlic cloves ( separated: 1 clove grated, 5 cloves finely chopped)
5 1/2 tablespoons butter (separated: 1 tablespoon, 4 tablespoons, 1/2 tablespoon)
1 tablespoon olive oil (separated: 1/2 and 1/2 tablespoon)
3 teaspoons Old Bay seasoning
1 teaspoon paprika
1 teaspoon salt
1/2 teaspoon black pepper
1/2 teaspoon red pepper flake
1/4 teaspoon garlic powder
Preppin: 
 Topping: 
Grate one of your garlic cloves into a bowl.
Chop your scallion and add it to the bowl.
Add your lemon zest and chopped parsley.
Mix all ingredients together and set aside.
Seasoning: 
Melt one teaspoon butter.
Once melted; combine a 1/2 tablespoon of olive oil, 1/2 teaspoon chopped garlic, Old Bay seasoning, paprika, salt, pepper, red pepper flake, and garlic powder.
Mix and set aside.
*it should have a thicker consistency & remind you of a red paste 
Everything else: 
Wash and cut your potatoes into 4 wedges.
Remove the husk and wash your corn.  Once clean, cut your corn into 4 pieces.
Clean & devein your shrimp.
Split your lobster tail in half – lengthwise and clean.
Clean your crablegs and break them at the joint.  I do this so that they will fit in skillet completely, it also makes for easier eating. 
Cookin: 
Fill a pot 1/2 way with cold water.  Add your potatoes and corn and bring to a boil.  This should take 5-7 minutes all together.  At 7 minutes, drain and set aside.  Your potatoes and corn should not be completely done & will continue to cook later.  
Add 4 tablespoons of butter to a heavy bottom skillet – I use a cast-iron skillet. Once melted, add the rest of your chopped garlic.
After about 30 seconds, add your potatoes, corn, crablegs, half of the seasoning mix, and your stock.
Cover and cook for 5 minutes.
After 5 minutes; add shrimp and lobster tail.  Cook uncovered.
While cooking, you want to loosen the rest of the seasoning, so add the remaining 1/2 tablespoon of butter to your seasoning and melt.  Once melted, stir in your remaining 1/2 tablespoon olive oil.
Once the additional seafood is done, should take no more than 5 minutes, turn the heat off.  Squeeze in the juice from half a lemon, add the remaining seasoning mix, and sprinkle on as much of your topping as you'd like.
Serve immediately, right in the skillet, with a few slices of toasted baguette.
-Enjoy!