This recipe came to me when I felt the need to meet the supply for a demand.  It also came to me when I was challenged, by a beautiful someone, who told me I couldn't feed their family on a strict budget – HA!  Since I'm always ready to prove a point, ballin' on a budget was born.
Not only did I set out to create a family friendly meal, but I set out to make a meal using fresh ingredients & a meal in which you could transform the leftovers into an entirely different meal – not just nuke them with your radiation kitchen devise.
Start by preheating your oven to 425 degrees & gather these ingredients:
Whole Chicken (mine was 4 pounds)
A whole lemon
2 whole garlic bulbs
Garlic Butter (that I told you to keep on hand or refer to the Extra Garlic Butter post https://enjoyallthings.net/extra-garlic-butter/)
Fresh green beans (1 pound)
Yukon gold potatoes (1.41 pounds is what I used)
Salt
Pepper
Dry Thyme (if you have it on hand)
Olive Oil
Pat chicken dry.
Stuff the cleaned cavity w/ half a large lemon (I cut mine into 1/4 wedges – no reason I just did), a bulb of garlic (I also cut in 4ths but you only need to cut in half), 1 teaspoon dry thyme (use fresh if you have it on hand), salt, & pepper.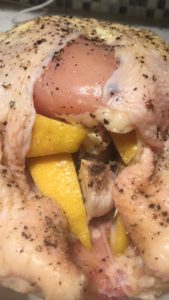 Carefully separate the skin from the breast (try not to split it like I did) & spread 2 tablespoons of garlic butter (or more) between the skin & the meat.  Drizzle & rub the entire chicken w/ olive oil.  Season both sides w/salt & pepper.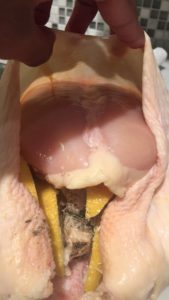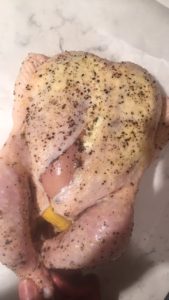 Tuck the wings.  Tie the legs together. Roast in the oven for an hour or until the juices of the chicken run clear & you reach an internal temperature of 165 degrees.  Once the chicken is done, tint the chicken w/ foil and let it rest for 10 – 15 minutes.
Now for your chicken side baes. For this budget meal to work you have to chose vegetables that will keep you within your budget.  1.08 pounds of green beans cost me $1.07 & 1.41 pounds of potatoes cost me $1.40 – THAT'S IT!
Cut the potatoes in half and then 1/4 wedges (so you should get 8 wedges per potato).  Boil them until fork tender.  Once they are fork tender, drain them and add butter, salt, pepper, and some fresh garlic (remember that other bulb I told you to get…).  Once the potatoes have some color turn off the heat and add a pinch of the dry thyme.
*tip- put the potatoes in a pot with cold water & let them come to a boil
Trim the green beans (meaning cut off the ends – they mean you no good) & blanch them in salted boiling water for 2-3 minutes.  Drain those beans.  Put some butter in the pan, season w/ garlic, salt, & pepper.  I finished mine w/a splash of the lemon juice (remember that other half?!).
SERVE!!!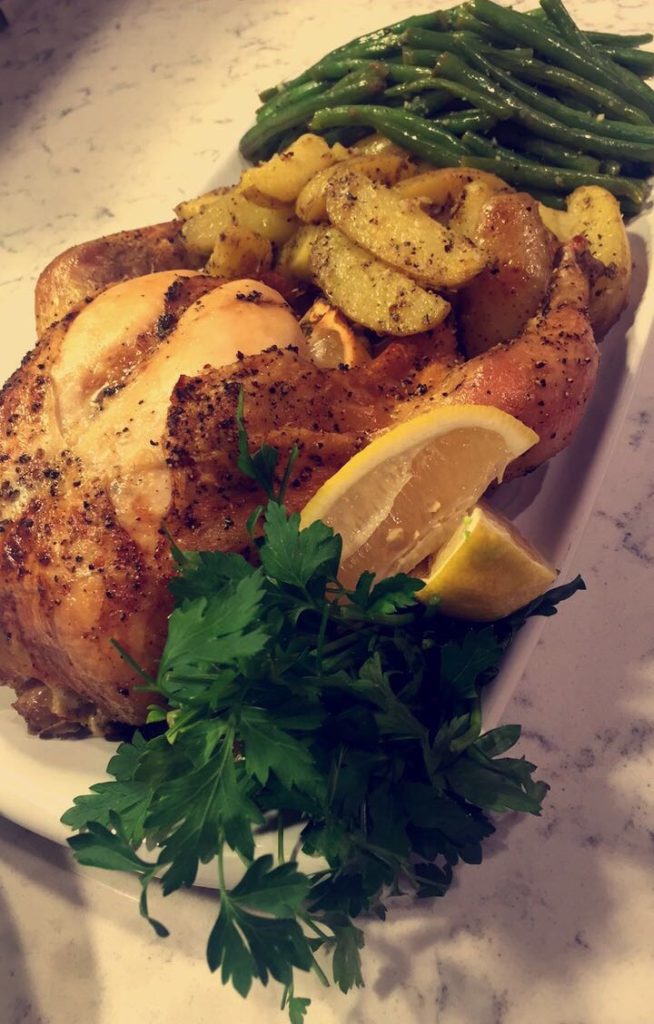 This meal cost $9.36!
So you have leftovers:
You can do a number of things w/ any of the leftovers you have.  If I ate meat, I'd take the carcass  & make my own chicken stock.  Any leftover meat and vegetables, I'd make chicken noodle soup or chicken pot pie (if you listen to me, you can use that stock you just made for those two ideas).
Want to keep it simple – take the meat. shred it. make tacos. bar-b-que sandwiches. put it on a salad. & if you want help, please e-mail me.
Budget & E.A.T.