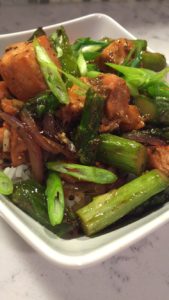 By the time you read this recipe you could've made it!
What You'll Need (ingredients):
1/2 small red onion
1 large garlic clove – minced (about 1/2 tablespoon)
1 pound asparagus
1 pound salmon
1 stem green onion (optional)
1 1/2 tablespoon butter (separated into 3-1/2 tablespoons)
1 tablespoon olive oil
Seasonings:
     1/3 cup Teriyaki sauce
     1 teaspoon black pepper
     1 tablespoon seasoning salt
     1/4 teaspoon garlic powder
     pinch red pepper flake
Let's Get It Started (preparation):
Prep time: 12 minutes
cut red onion in thin half moon shaped slices
mince garlic clove
thinly slice green onion on a bias
cut the asparagus into 4's
cut salmon into 1/2 inch cubes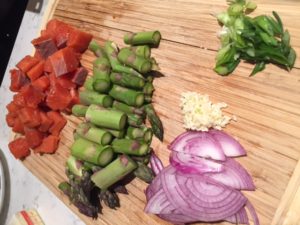 Flick Your Wrist (cook):
Cook time: 10 minutes
1. In a large pan, heat/melt 1/2 tablespoon of butter and the olive oil over medium-high heat.
2. Once heated, add asparagus.
3. After cooking asparagus for 1 minute, add the onion, stir together, and cook for 2 minutes.
4. Move veggies to one side of the pan and add 1/2 tablespoon of butter to the empty side of the pan.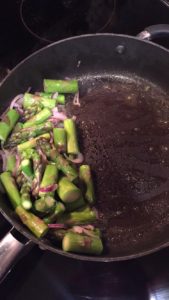 5. Once the butter is melted, add the salmon, in a single layer, to the empty side of the pan & sear on all sides (to prevent overcooking, this should only take 2-3 minutes).  Add all seasonings, minus the teriyaki sauce, to the salmon and veggies.
6. Once the salmon is seared, mix everything together and cook for another 30 seconds to 1 minute.
7. Add the teriyaki sauce, 1/2 tablespoon butter and minced garlic.
8. Mix everything together and cook for 30 seconds.
9. Remove from heat and serve over rice.
*This recipe will give you 4 – 1 cup servings.
*This meal is still great reheated!
-Enjoy All Things