Someone was hating on you guys and said I need to keep this a secret but I can't.  It's a simple, yet very effective, compound butter recipe – plus if you know me, I go to a particular restaurant and order EXTRA GARLIC BUTTER!!! Every.  Single.  Time.  I usually make this for my fried rice (still debating on giving you all that recipe) but it's also great for veggies, eggs, putting on top of steaks, seafood – you get the point.  Make a lot and thank me later!
Ingredients:
1 stick (8 tablespoons) of soften unsalted butter (the real stuff, not the basic whipped plastic stuff)
2 medium sized fresh garlic cloves
1/2 teaspoon salt
1/2 teaspoon black pepper
1 tablespoon finely chopped green onion (optional)
Instructions:
Take the garlic cloves & finely mince.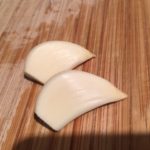 2. Put in a pile & add salt to the top of the pile.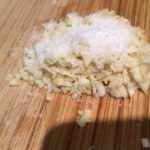 3. Chop salt & garlic together.
4. Take the side of the knife & smear/smash garlic & salt mixture.
5. Repeat steps 3 & 4 until you have a paste like consistency.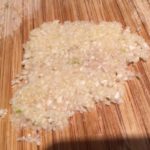 6. Combine all ingredients in a bowl.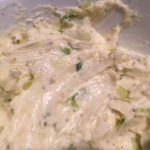 7. Enjoy!!!
**How to store: I usually form the garlic butter in a log with wax paper or plastic wrap.  You can also store in a container or freeze for later use.  -Enjoy All Things