Me: skinny pescatarian that is in love with everything about food!

Vacation: eat your way through your bank account while experiencing other things as a bonus
So when my sisters said "lets go to L.A"; I pulled out my debit card, to purchase my ticket, and immediately made a list of places for us to eat.
Day 1:

The Boiling Crab:
My sis Jas picked this place and said we had to experience it- as soon as we checked into our hotel we headed over to Koreatown. With a wait time of about 30 minutes, we passed the time by going to a near by lounge and had beers.  The great thing about the lounge is they allow you to order The Boiling Crab To-Go and enjoy your meal there.  (Don't ask me the name of the lounge b/c I totally forgot).
Finally our name is called.
Anytime a restaurant grabs a large sheet of paper while walking you to your table you know you are in for a messy good time!!!  We sat and ordered; more beers, 1 cup of seafood gumbo w/rice, mild Cajun fries, 2 orders of potatoes, 2 corn on the cob, 1lb of head on shrimp and 1lb of king crab legs – seafood medium and the whole shebang, potatoes and corn mild and the whole shebang.  Gumbo came out first, of course I couldn't eat it, but my sisters didn't even let it cool off before devouring it.  They are going to hate me for this but IDC!  You know how when something is hot but you keep eating it anyway and then you have the chew w/ your mouth open trying to cool it off thing going on — that was them.  After they shamelessly cleaned the cup, bags of food arrived and the only thing that could be heard were the noises of food porn.
"OMG"
"mmmm"
"It's so good"
"I'm full but I can't stop eating"
Even when my plastic bib started falling I didn't stop to pick it up – FORGET THAT!  So to say the least it's good and you should go!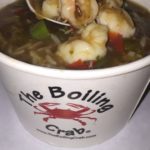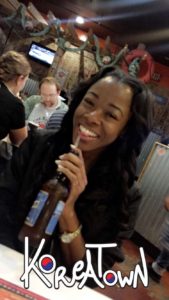 Day 2:

EggSlut:
I've been seeing this restaurant appear all over my Instagram timeline and knew that I absolutely had to try it.  First thing we noticed was a bustling restaurant with a small menu but a big bang!!!  Second thing we quickly became aware of was the line.  It is said that if there is a long line EAT THERE and this line went on and on and on and I found myself in line for an hour and a half *inserts crying emoji*.  "Move up and over, up and over"  that's all the line manager security guy (whatever his job title is) kept saying.  About 10 minutes from the ordering counter, my sisters magically reappear (they have food ESP or something) and we discuss what we are going to order:
"I'm getting the Fairfax w/ avocado and a box water"
*looks at EggSlut Instagram page* "Look at alllll that bacon – I'm getting the bacon, egg and cheese sandwich, add avocado w/ an orange juice"
"Idk if I want the Gaucho or the Fairfax?  I'm going to get the Fairfax w/ bacon and avocado, orange juice and boxed water" – boxed water wasn't ordered
FINALLY! we ordered, grabbed a seat at the counter, and waited with watery mouths for them to call our names.  Let me tell you, these sandwiches didn't last 5 minutes!!! It's so good and the soft scrambled eggs on the Fairfax sandwich were everything.  I think we sat at the counter another 5 minutes reminiscing about the taste bud party.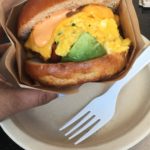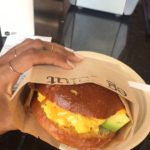 Fruit Cart:
You can't go to L.A. without stopping at a fruit cart – this is not up for debate.  When I saw the rainbow umbrella, before getting egg slutted, I said "FRUIT CART! going there right after EggSlut" and I did.
"I'll have watermelon, pineapple and mango"  & of course I made it spicy with lime & you should too!  Sweet, spicy, sour, cold, heat – yesssssssss ! Again, not up for debate – thank me later.

Next, we drive about 45 minutes to get to Venice Beach.  After a sisterly bond on the beach – we eat, yet again.  Hey! don't judge us *refer back to vacation definition*.  We end up at:
Cabo Cantina:
Cabo Cantina has a patio downstairs before you walk in and I take it that you must be 21 years or older to get in because we were carded right at the entrance.  We sat on the patio and asked our waitress which one of the, approximately 25,  margaritas were best "strawberry or mango" – so we ordered 2 strawberry and 1 peach – 1 with sugar, 2 w/ salt , all on the rocks.  "Regular or big?" Well we are on vacation so you know which one's we ordered.  These huge margaritas were the size of our heads and as we looked around 3 girls were sharing 1 and all we could do was laugh and cheers.  My sisters ordered the chicken queso dip, which came out cold and the margaritas were lackluster to say the least.  All in all, we could've passed or waited until happy hour when you can get 2 drinks for the price of one.
Wing Place:
My sisters stopped by this wing place.  I call it Wing Place because I failed to get the name but it's on the opposite side of the street from Cabo Cantina and down more towards the beach.  I can say that the food was done quick and my sisters said it was "okay" but I couldn't tell by the way they dipped them in ranch and cleaned those bones!  You wouldn't even know that these bones belonged to chickens unless you were there to witness the eating – so eat at your own risk, I can't vouch for anything.
After our time at Venice, we drove to The Grove shopping center and the ENTIRE time there one sis kept saying "I need something sweet".  Just when you thought we had enough:
Bennett's Ice Cream:
Apparently, the three of us had a throbbing sweet tooth because we all ordered.  Yes, we love food.  I looked over the menu and HAD to order the Fancy Nancy.  Yes the description of coffee ice cream with banana and caramel was very enticing, but I had to order it because of the name – a nickname of mine.  & you should always get ice cream in a sugar cone!  One sister got 2 scoops of cherry vanilla ice cream in a waffle cone, while the other – smh:
"I'll have a sundae with strawberry topping and add nuts *pauses and thinks* add banana too"
"Would you like whipped cream?", with wide eyes "YES"
"Would you like a cherry on top"  "YES"  – turns to us "should I get sprinkles too?"
We enjoyed that scratch made "old-fashioned" ice cream!
Wakcano:
By this time you'd think we were burnt out on chewing, but we had to visit a favorite of my sis.  Wakcano reminds me of a local restaurant in Omaha (they don't get a plug here b/c they tried to serve me bacon but it rhymes w/ Zero).  They had a bit of a crowd but the wait time was less than 5 minutes.  My sisters ordered drinks; Hennessy margarita and a red sangria – strong but delicious!  I ordered crispy Brussel sprouts and crab Rangoon.  The Brussel sprouts were decent but could've used acidity –  lemon zest would've been perfect and took my decent to a good, but I should've passed on the crab Rangoon.  The Rangoon was served with a sweet and sour sauce that was over powered by ginger and the plating was terrible.  One of my sisters had the crispy Brussel sprouts w/ garlic chicken wings.  The garlic wings looked and smelled amazing.  My other sister had salmon, rice, and asparagus w/ a side of teriyaki sauce – she LOVES a sweet sauce.  The asparagus was under seasoned but the salmon was cooked perfectly.  All in all Wakcano was a let down but if I ate meat I would've loved to try those garlic wings.
Day 3

Kitchen 24
In our heads, Kitchen 24 happened on day 2 but since it was 5:30am after being up all night it was day 3.  This place was recommended by a guy and this was a great recommendation – It's what I would call a cute, upscale diner .  I'm sure we should've been in bed or doing the walk of shame to our hotel but of course we were eating… AGAIN.  The menu is big w/plenty of options for different types of eaters – yay for me.  After starring at the menu, for what seemed like ever, I decided on the crispy, light, cake flavored Belgium waffle.  It was topped w/ strawberries, power sugar, whipped cream – which I declined, & served with warm syrup.  It was cooked to perfection; you know crispy on the outside and chewy in the middle.  One sister ordered the chicken stack which comes w/ a cornbread base, topped w/ mashed potatoes, a fried chicken breast and smothered in gravy.  I wish you could see her face when her plate hit the table and she was told "we ran out of mashed potatoes", she was so disappointed.  You know when you're at the store &  your/a kid comes running up to you and ask if they can get something and you say "no", that was her.  "It's missing something and this isn't what I ordered.  I want my mashed potatoes."  My other sister devoured the pineapple wings and raved about how good they were.  Kitchen 24 is a great late night/early morning place to eat.  Unless they run out of mashed potatoes, and you get the waitress w/ the coconut oil in her purse,  you will not be disappointed.
My Two Cents
This place is AHHHHH-MAZING and I'm still thanking Jamie for the recommendation.  You walk into a small restaurant, Reggae music is playing, and all you want to do is dance to the counter.  Once you walk past all the decadent desserts, they ask "is this your first time".  After we nod,  the entire staff *yells* "FIRST TIMER – *bangs on the grill* WELCOME".  This is an awesome soul food place with lots of options for pescatarians, vegetarians, and vegans.  On the table we had an order of complimentary biscuits, 2 orders of shrimp and grits, 1 order of turkey bacon, 1 order of veggie bacon, chicken and waffles (the waffles have fried chicken inside of them *notes idea*), cheese grits, braised greens and a huge serving of super moist butter cake that we couldn't stop eating from my sis's pregnant friend *hangs head*.  If you only go for the music, ambiance and the awesome staff, then you'll visit this place again and again and again.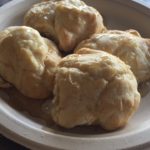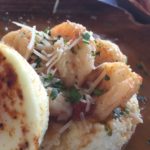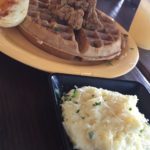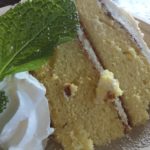 Barton G.
Barton G is a restaurant that brings on the theatrics and was certainly a great last supper.  The treats were over the top and this was a dining experience.  The restaurant is dark but the drinks are cold, literally.  The show stared w/ my sisters drinks: they came out w/ clouds of smoke and adult Popsicles.  One sis ordered  "Diamonds are Forever" which is a martini served on a rhinestone studded picture frame, the other ordered "Sabrinatini" which came out with a chocolate monkey hanging off it.  We ordered the "Bag of Bones" which was plated in a "statue" of a man holding a scale – the "bones" (ribs) served on one side and truffle fries on the other.  We also ordered 2 orders of the lobster pot pies – out comes a faux toaster w/ 2 large toaster strudels stuffed w/ plenty of lobster and cheese, served w/ 2 awesome dipping sauces.  These were very rich but very good!!!  Then to top it all off, we tell the waitress we are celebrating life and out comes "Marie Antoinette's Head – Let The Eat Cake".  It should've been called "Let Them Eat Cotton Candy & Call Your Dentist In The Morning".  Marie Antoinette's hair is a gargantuan pile of cotton candy that we didn't complain about one bit!  As if that wasn't enough, it comes w/ a slice of cake, berries and a side of whipped cream.  Barton's isn't the most budget friendly, they literally bring your check out in an envelope that says "THE DAMAGE", however the show and the experience was worth every penny.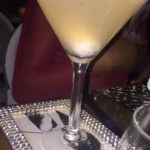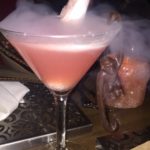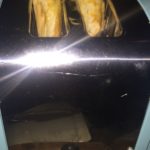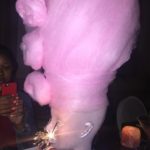 Lets just say my sisters are now blaming me for eating our way through Los Angeles, we have bank accounts full of pending transactions, but our tongues and tummies are happy and the only complaint we have is why couldn't we eat more.
-Enjoy All Things