I couldn't say no when a peer from high school asked me to volunteer at the Boys & Girls club.  I'd been looking into doing cooking lessons & cooking with teens sounded like a great start.  Thursday came & as I was driving I was a little bit nervous – teens just aren't the same as when I went to school, plus the tornado sirens started going off as I was driving.  ANYBODY that knows me, knows that severe weather & tornados are not my cup of tea.  I walked into the center & there were parents trying to pick up kids, some children were in the tornado shelter, the phones & walkie-talkies were going off, & I started to wonder if I should just come back & try again the next week.  I'm so glad I didn't, because these kids are AWESOME!!!
Week 1:
Week 1, I taught them how to make French toast w/ a berry compote. Now the children thought that I was going to do all of the cooking & they were just going to watch, but boy were they wrong –  I gave directions and supervised.  They did it all & they really enjoyed doing so.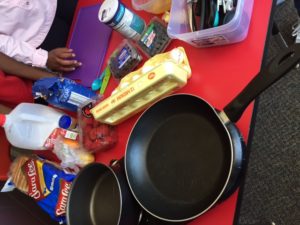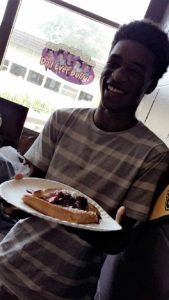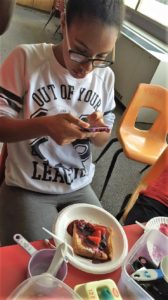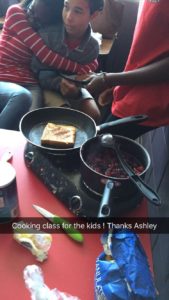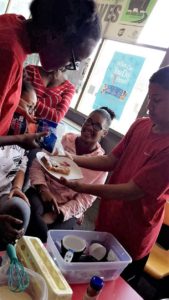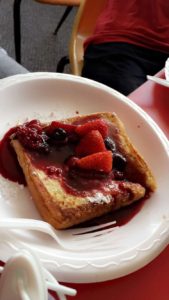 Ingredients:
Berry compote:
1 lb of Strawberries
1 pint of Blackberries
1 pint of Blueberries
1/2 cup Sugar (you can use less if you'd like – don't listen to everything I say)
1 teaspoon Lemon zest
Combine all ingredients in a pot and turn the heat on low.
Cook until the fruit partially breaks down and makes a syrup. (may need to add water if it's too thick)
THAT'S IT! All done
French Toast:
For my French toast I don't really have an exact recipe, so read my method & make it happen.  Use a thick bread like Texas toast, or get your hands on some challah or brioche.  Use about 5 large eggs, about 1 1/2 – 2 cups of milk or heavy cream, some cinnamon, some sugar, a pinch of salt (listen to me on this), a splash of good vanilla extract, & if you'd like try some orange zest.  Mix it all up – excluding the bread.
Saturate your bread in the mixture & cook until done in a hot pan or a griddle on 350 degrees.
Serve w/ some flavored butter (lemon would be awesome), or powder sugar, or the berry compote, or be glutinous like me & serve it w/ all three – YOLO!
Week 2:
I was asked, by the kids (oh! I think they like me), to come back & make lemon pepper chicken.  I am pescatarian but don't get it twisted, I can still cook meat!  My sister has a great method, with her permission, I borrowed it.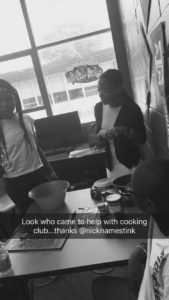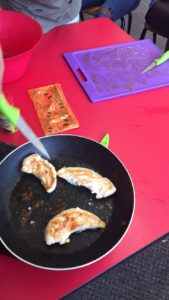 Do It The Dixie Way (see sis, shouted you out!):
Cook the chicken – naked.  No seasoning, no nothing! Just put it in a little hot oil, if using a skillet, or drop it right in your heated deep fryer.
Once your chicken is thoroughly cooked (please don't serve medium well chicken), you want to toss it around in your lemon pepper mix.
Your lemon pepper mix should consist of olive oil (the good fat) & lemon pepper seasoning.  (Just as I told the kids, be sure to taste your lemon pepper seasoning, they are not all made the same.  Some can already have salt, some may not – you better trust me on this one).  Add additional salt or pepper as needed.
Serve!
Week 3: 
We will be making s'mores, so I will have my marshmallow recipe up after that class.
-Enjoy. All. Things.