Sugar, spice, & everything nice is how I came up with this recipe.  I absolutely LOVE this dish, its taken me about a month to get it out because I wanted it to be as perfect as I think it taste.  You may not care, but I'm going to tell you anyway because I can, and I want you to know that recipe writing isn't as simple as you may think.  I want to get the best version of my cooking out to you so that it can be easily duplicated and enjoyed.  Recipe writing is very time consuming, tedious, & such a "forget it I give up" process.  I have to shop & measure & time & tweak & cook, over & over & over again – I don't know about you but I like variety in my meals, so eating this stuff multiple times gets old FAST AF!  However, I LOVE LOVE LOVE this sauce & the versatility.  It can go on any protein or meat substitute – I've put this sauce on scallops, crab-legs, lobster tails, and shishito peppers.
So make it, enjoy, and I'll keep the recipes & ideas coming!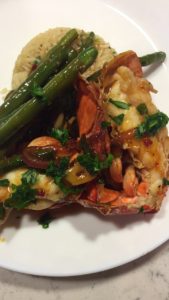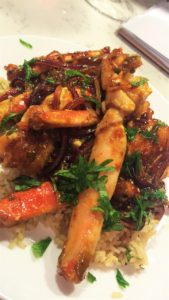 Ingredients:
1/2 lb protein or protein substitute
1/2 pound vegetables (asparagus or fresh green beans)
1/2 small red onion sliced
2 scallions (green onion) finely chopped
3 Tbsp vegetable oil (any non flavored oil will do)
2 Tbsp fresh garlic
1 Tbsp fresh ginger cut in matchstick slices
Salt and pepper to taste
Chopped parsley (garnish)
Sauce Ingredients:
2 Tbsp garlic chili sauce
2 Tbsp sweet & sour sauce
1 Tbsp soy sauce
1 Tbsp brown sugar
1 Tbsp melted butter
1 Tbsp honey
1 clove chopped garlic
2 tsp rice vinegar
1 tsp vegetable oil (any non flavored oil will do)
Start Cooking:
 Mix all your sauce ingredients together & set aside
Cook your protein & set aside (*if you are using seafood, cook half way & finish in the sauce – nothing is worse than over cooked seafood)
In a wok or skillet, on med-high heat,  add your 3 Tbsp vegetable oil.  Once heated add red onion, fresh vegetables, & ginger – let this cook for 1 minute.
Add your protein, half your scallions, & sauce – mix & let this cook for 2-3 minutes.
Add your garlic, mix, and remove from heat.
Serve over rice – garnish with parsley & remaining scallions.
Tips:
I cook my rice in a mixture of vegetable stock & water.  I also add a pinch of red pepper flake, a pinch of salt, parsley,  & a garlic clove – this adds flavor.
If you are going to use crab-legs, split the crab-legs so that you are able to easily remove the meat, the sauce will actually be on the meat – not just the shell, & it'll be less messy.  When I tested the recipe I didn't do this & the sauce was all over my hands – still good though.
If you are using a protein such as chicken, steak, scallops, or salmon; be sure to get a great sear on the protein – no one likes gray meat UGH!
This recipe is made for 2 but it can easily be doubled or tripled.
-Enjoy!